The other day we were talking about Austria and long ago it was. But the Tour de Kaernten was only the other side of summer. It already feels like a lifetime ago. Perhaps I've already repressed the memories of the event: six stages over six stages covering over 400km and 7000m of climbing.

I took part with 4/5ths of The 5th Floor Women and as part of my Focus Challenge, I flew out my super light Focus Izalco Max to give myself the best shot of finishing the race. The DT Swiss RC38s giving that sweet spot between aero gains and weight; versatile enough to use on both the flat and the mountain TT stages.
Don't get me wrong, the experience was awesome but it was brutal. Completely and utterly brutal. I felt transported to a new world of challenge – racing day on day not only took its toll on the legs, but gearing up mentally sapped energy that I didn't know I had.
It's slightly unnerving embarking on something where the end never feels in sight. Having said that, we'd be racing along, absorbed in the effort of going uphill at a pace dictated by the peloton and the next thing we knew it'd be 10km to go. Who knows what happened in between. The first day I found I could hardly take any food on board, let alone get it out of my jersey pocket. The second day we broke up energy bars and put them loose in the pockets, anything to make it slightly less of an effort. By the third day I managed a few glances up at the beautiful scenery – snow topped mountains and dense green forests. It sounds like a lacklustre biblical story over the week but it felt more like a process of survival.
Crossing the finish line each day felt like a monumental achievement. After each stage I found myself disorientated and grappling for top-ups of ice cold mountain water. Guzzling it down like a crazed person. A little while later the team would be reunited and the four of us would be sprawled by the roadside embracing salt-stained jerseys. Our exhausted expressions melting when it sunk in that we had all just survived another stage. Survived is probably a little modest considering just how well the team did – with Petra taking 2nd overall female and Aoife 3rd. We supported each other tons and those results definitely felt collective.
People asked afterwards if we deployed any team tactics. For a few stages we managed to keep the green and three-stripes of a teammate in view but on the other days we just raced as hard as we could among the other riders. It was a mixed event with cyclists from all over Europe. We chose the tour because of the amount of climbing. It was a genuine challenge. I get the impression that for a lot of the competitors 2000m in a 70km ride isn't that daunting. Especially when you have mountains on your doorstep. At least that's the vibe they gave off when they shot past us up the climbs. That and the fact there seemed to be a lot of "couple tactics" – husbands playing domestique to their wives. Maybe slipstreaming was a condition in their vows.
The stage that stands out is the mountain time trial. We set off at 30 second intervals from a glamorous ski centre car park and simply rode upwards for just over an hour. We went from 590m to 1732m high in just 16km and I think it did something weird to our minds. There had been a storm in the morning and the mountains were shiny with white icing. We went a bit loopy in the thin air and after refuelling on hot mountain stew in an out-of-season ski lodge restaurant, we braved the cold air and cheered on the finishers as they rolled in. I'm still undecided if our support was appreciated or not.
With the racing done by mid-morning, we spent the downtime sipping local beers and lying down on the lake's jetty eating peanut butter by the spoon. I'm pretty sure that's what the pros do out of sight of the media. Salaries and drugs aside, I have a new found respect and awe for those riders in the Grand Tours. Caps officially doffed.
All the stage profiles and results are on the tour website:
http://www.tourdekaernten.at/?lang=en
| | | | | | |
| --- | --- | --- | --- | --- | --- |
|  Day |  Ride |  Adeline | Aoife | Petra | Sophie |
| 1 |  102km, 1700m | 13th | 2nd | 3rd | 4th |
|  2 |  39km, 150m | 10th | 2nd | 4th | 5th |
|  3 |  78km, 1990m | 9th | 3rd | 2nd | 4th |
|  4 |  16km, 1150m | 10th | 4th | 2nd | 6th |
|  5 |  91km, 1410m | 9th | 3rd | 2nd | 8th |
|  6 |  102km, 1060m | 9th | 3rd | 2nd | 7th |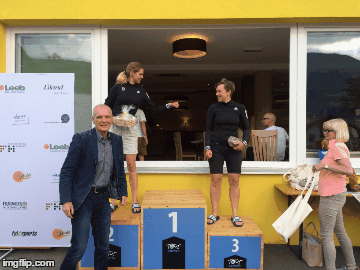 What we rode:
Aoife – Ribble R876, 50/34 11-28
Adeline – Cannondale, CAAD10, 50/34 11-28
Sophie – Focus Izalco Max, 52/36 11-28
Petra – Focus Izalco, 50/34 11-28